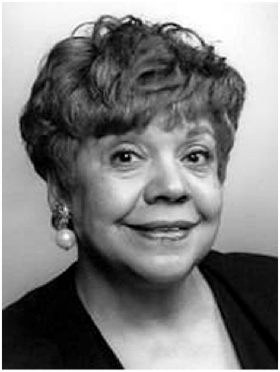 The Honorable Claudia Clementine House Shropshire Morcom
"Claudia House Morcom was a model of courage, a pioneer for black women in the law, and a champion for human rights around the world." Detroit Free Press 8/21/14
Claudia Clementine House was born on June 7, 1932 in Detroit to Walker and Lillian Stuart House, who had left Mississippi for the North's promises of opportunity during the 1920s. Her lifetime commitment to social justice and racial pride was nurtured in her youth. She decided as an 8 year old girl to become a lawyer and work for human rights. Even as a girl, Morcom was a high achiever and trailblazer. She was an active and popular student at Detroit's Northern High School where her extracurricular activities included dance, skiing, drama, and the cheer team. At age 15, she was the first African American girl to swim a mile in the annual all girls swim meet at Belle Isle Park.
Using her keen oratorical skills, Judge Morcom won the Shriner's Beauty and Talent Show in 1953. She used the $1,500 scholarship to pursue and earn her juris doctorate degree from Wayne State University.
Judge Morcom graduated from law school in 1956, at a time when few attorneys were women, and even fewer were African American. She accepted a position with the Detroit Housing Commission as a public housing aid and also was a public defender in Detroit's Recorder's Court. Eventually she joined the state's first integrated law firm – Goodman, Crockett, Eden, Robb and Philo – and handled a wide range of legal cases from probate and family law to criminal and personal injury work.
The firm fully supported her active involvement in support of human rights. In the volatile civil rights era in the 1960s, Judge Morcom accepted the position of Southern Regional Director for the National Lawyers Guild Program. While in Jackson Mississippi, she and others facilitated a massive voter registration movement and worked to desegregate public facilities throughout Mississippi. She was subjected to regular threats and harassment. Her experiences were chronicled in a Jet magazine cover article.
Judge Morcom returned to Detroit in 1965 and became the founding director and program administrator of Wayne County Neighborhood Legal Services. During this time, she also spearheaded a Detroit ballot initiative calling for an end to the Vietnam War.
From 1972 to 1982 she served as an Administrative Law Judge for the State of Michigan's Worker's Compensation Court. In 1983, she became the first African American woman appointed to the Wayne County Circuit Court where she served with distinction until her 1998 retirement.
She continued her fight for human rights and anti-war activities through her involvement in many organizations. Judge Morcom co-chaired the Michigan Committee to Free Angela Davis. Following Davis' acquittal in 1972, Judge Morcom became the founding executive board member of the National Alliance Against Racist and Political Repression. She served the alliance for 20 years. She also was a board member for the Meiklejohn Civil Liberties Institute; International People's Tribunal of Conscience in Support of the Vietnamese Victims of Agent Orange; National Conference on Human Rights and the New Nicaragua Constitution; and represented the Non-Governmental Organization of the Association of America Jurists at the United Nations International Conference on the Relationship between Disarmament and Development.
Following her retirement from the bench in 1998, Judge Morcom used her skill to speak out for fundamental human rights around the world. She served as a delegate to the 2001 World Conference on Eliminating Racism and Xenophobia in South Africa. In 2002 she was the spokesperson for the International Association of Democratic Lawyers on a trip to Egypt, Tel Aviv, Jerusalem and Ramallah. In 2005 she reported to the United Nations Committee on Human Rights in Geneva, Switzerland concerning U.S. human rights violations, and the Convention against Torture violations after 9/11.
Judge Morcom had a great love for her community and the arts. She worked with various community boards including the Music Hall for the Performing Arts, Alternatives for Girls, Metropolitan Detroit YMCA and YWCA, Kids in Need of Direction, Merrill Palmer Institute for Child and Family Counseling, President of the Millender Fund, former President of Wayne State University Alumni Association, founding board member of the Organization of Black Alumni, delegate with the Center for Peace and Conflict Studies, China Study Tour.
Judge Morcom was an avid jazz fan and a featured jazz vocalist with the Mike Wahls Trio for over 20 years. She also hosted a Saturday morning radio show on 90.9 FM sharing her vast knowledge and love for jazz. The Detroit Jazz Festival Board of Trustees and the Detroit Jazz Festival Foundation awarded her with the 2014 Robert E. McCabe Guardian Award for her contributions and lifelong commitment to presenting and preserving the legacy of jazz music.
For her life's work, Judge Morcom received many accolades including her 1996 induction into the Michigan Women's Hall of Fame, the Maurice Sugar Voice for Justice Award, the Detroit Urban League Distinguished Warrior Award, and the Michigan State Bar Association Champion of Justice Award, Wayne State University Center for Peace and Conflict Studies Award, Wayne State University Outstanding Alumni Award, Damon Keith Humanitarian Award, Center for Constitutional Rights Award, American Civil Liberties Award, among countless other honors.
Judge Morcom died in 2014 and is buried in Section 1, Lot 57.