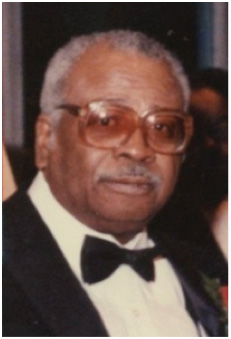 Dr. Norman McRae, Jr.
Born: September 25, 1925
Died: June 13, 2010
Dr. Norman McRae, Jr. was born on September 25, 1925 to Norman and Julie LaDonia Shields McRae. Dr. McRae was passionate about history and was an avid researcher and author of African American history.

Dr. McRae was educated in Detroit and Saginaw. He returned to Detroit where he graduated with honors from Wayne State University in 1950 with majors in Journalism, English and History. He continued his education there and received a teaching certificate and Masters in Social Studies. In 1982 he earned his Ph.D. in history from the University of Michigan; his dissertation was titled "Blacks in Detroit, 1736 – 1833: A Search for Community on the Western Frontier."
Dr. McRae taught at all levels within the Detroit Public Schools and in1966 was promoted to the position of Personnel Administrator. He briefly left DPS for a three-year position as a Research Associate for the Michigan-Ohio Regional Education Laboratory. He then returned to DPS as Assistant Director of Staff Development. Subsequently he was Director of Social Studies, Fine Arts, and the Children's Museum.

In 1968, Dr. McRae designed and taught the first black history course at Wayne State University. He also served as an adjunct professor at the University of Michigan – Dearborn, where he taught "The Black Presence in the United States." He has authored numerous articles and a publication used as a high school history text book.
Dr. McRae died in 2010 and is buried in Section A. Lot 98.