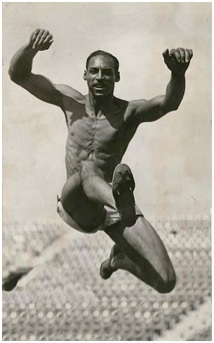 Edward Lansing Gordon, Jr.
Edward Lansing Gordon, Jr. was born on July 1, 1908 in Jackson, Mississippi. He was an American athlete who competed in two Olympics, primarily in the long jump. After finishing seventh in the 1928 Summer Olympics, Gordon showed dramatic improvement. He competed in the 1932 Summer Olympics where he won the gold medal.
Gordon also won the NCAA for Iowa in 1929-1931. He remained a top flight performer for many years and in 1938, representing the Boys Club of New York, won the AAU indoor long jump, successfully defending that title again in 1939. He career best of 25-4 ¾ (7.74) came in winning the Kansas Relays in 1931.
Gordon was a successful teacher in the Detroit area for many years.
Gordon died on September 5, 1971 and is buried with his wife in Section S, Lot 145.