Elmwood Cemetery is a place of diversity in the range and scope of the artistic memorials that have been placed here to honor those at rest. More than designating a burial location, memorials serve as a reminder and a celebration of the life of a loved one. From lawn level markers on individual graves, to family monuments, each memorial at Elmwood can be customized to a family's wishes. You may choose from an array of sizes and styles offered from a selection of top quality manufacturers. Using the finest materials, from bronze to granite, available in a variety of shades and colors, your memorial can be personalized with a meaningful statement and design. An experienced advisor will review the variety of choices available so that you can create a memorial that will be a lasting tribute for you and your loved ones.

Marker and Monument Memorial Cleaning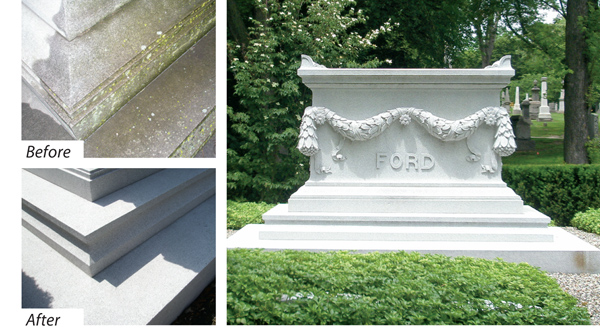 Elmwood Cemetery is pleased to offer memorial cleaning.
Individual markers $120 each
Companion markers $200 each
Monuments $100 per linear foot of base
Large monuments or family mausoleums need to be quoted individually.
Please contact our office staff to make arrangements or click here: Marker and Monument Memorial Cleaning Form to download the marker and monument memorial cleaning form. The form may be completed and mailed or faxed to the cemetery office.