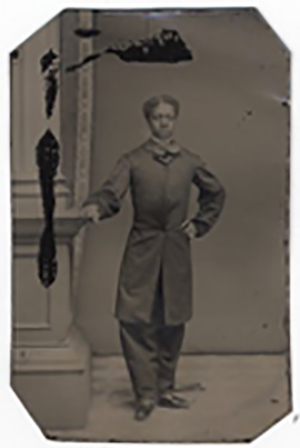 Click here to view or download a PDF.
Benjamin DeBaptiste was born in Fredericksburg, Virginia in 1843 and is shown in the Detroit City census as a resident at age 8, along with his parents and four siblings. He later worked as a laborer and plasterer.
He enlisted on May 5, 1863 and served as a private in Company K in the 54th Massachusetts Infantry, the first colored regiment to fight for the Union in the Civil War. The regiment was known for its bravery and fierce fighting against Confederate forces. Its accomplished combat record led to the general recruitment of African Americans as soldiers. The regiment gained widespread acclaim on July 18, 1863 when it spearheaded an assault on Fort Wagner, a key position overlooking the water approach to Charleston Harbor. The regiment also saw service in Florida and elsewhere in South Carolina.
In June 1864, the U.S. Congress granted the 54th soldiers the right to equal pay after going fifteen months without pay. In October 1864, Col. Edward Needles Hallowell requested and was granted a 30 day furlough for Private DeBaptiste to visit his family.
The 54th Massachusetts mustered out of service in Mt. Pleasant, South Carolina on August 20, 1865. This regiment was immortalized in the movie "Glory."
DeBaptiste was member of the Masons.
He died in 1919 and is buried in Section C, Lot 24, next to George DeBaptiste.
Benjamin B. DeBaptiste is listed in Elmwood's Underground Railroad Network to Freedom Self-Guided Tour Map.