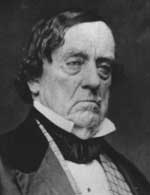 Michigan's most powerful political figure of the 19th century, Cass served Michigan and the nation for over 50 years.
Born in New Hampshire in 1782, he grew to manhood there, then went to Ohio. He became the first certified attorney admitted to the Ohio State bar. At 24, Cass was elected to the Ohio Legislature. In 1806, he married Elizabeth Spencer and they had six children. The War of 1812 diverted him from politics to the military. During this war, Cass rose to the rank of Brigadier General. It was from his associations during the War of 1812 that he received his appointment as Governor to the Territory of Michigan by President James Madison on October 29, 1813. During the years after the war, Cass traveled around the Territory exploring vast resources and making a series of treaties with the Indians. These treaties resulted in the government acquiring most of the Indian lands in the Territory.
Cass held the post of Territorial Governor for 18 years. In 1831, he was appointed to the cabinet of President Andrew Jackson as Secretary of War. He served in this post for five years. Many of his duties involved Indian affairs and resulted in policies that were to affect the Indians for the rest of the century. During this same period, Cass was involved in working on statehood for Michigan which was gained in 1837. In 1836, Cass resigned as Secretary of War and accepted the post of U. S. Minister to France. He held this post until the end of 1842.
On February 5, 1845, Cass was elected to the U. S. Senate by the Michigan Legislature. He remained in the Senate until 1848. He resigned in June of 1848 to run as the Democratic candidate for the Presidency. He was defeated by the Whig candidate, Zachary Taylor. In January of 1849, he was re-elected to the Senate and returned to Washington. Cass remained in the Senate until 1857.
President James Buchanan appointed Cass Secretary of State in 1857. He worked with the President for three years but resigned when he and Buchanan could not resolve their differences on slavery and secession.
Cass returned to Detroit in 1861 and continued to have a keen interest in civil affairs. He made one of his last public speeches in 1861 in support of Abraham Lincoln's call for 300,000 soldiers. The meeting ended in a riot but Michigan raised the troops that were called for. Cass, who once had been Secretary of War, lived to see the Civil War won by the troops that he had helped to raise.
Lewis Cass died in 1866 at the age of 84. His life was honored by the state and the nation with a day of mourning for the country had lost one of its most dedicated citizens.
Born: October 9, 1782
Died: June 16, 1866
Buried: Section A, Lot 75