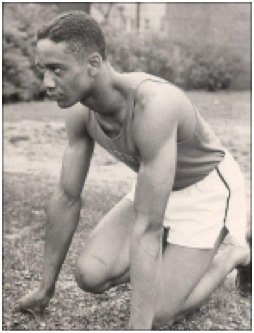 Lorenzo C. Wright
(1926-1972)
Lorenzo Christopher Wright, a Detroit native, was a Miller High School graduate. He was named "the one man track team." He was a standout at Wayne State from 1945-1949 and was a Gold Medal Winner in the 1948 Olympics as part of the 400-meter relay team, after being selected to compete in the long jump and placing fourth.
Wright was a two-time Penn Relays long jump champion, as well as a member of Wayne State's 440 and 880 yard championship and record-setting times at the Penn Relays. He won WSU track letters in 1945, 1947, 1948, and 1949, with his college career interrupted by 18 months of Army service. He was a NCAA All-American in 1947 and 1948, placing second and third respectively in the long jump. He won the 1948 and 1952 National AAU long jump titles, setting the indoor long jump record (25 ¾) in 1948. He was a two-time Detroit PSL long jump champ. He was the Central Collegiate Conference Indoor Champion and won the inaugural Mid-American Conference 100 and 220-yard dash, 220-yard low hurdles, and long jump titles.
Wright's WSU indoor and outdoor long jump marks as well as records in the 100-meter and 220-yard dash still stand.
He later coached his alma mater, Miller High, as well as Eastern and Southwestern Highs, as the track and swimming coach. In 1968, he was named supervisor of Detroit Public Schools Athletics.
He died in March 1972, after a lengthy career in the Detroit Public Schools. He held two WSU degrees.
He was inducted posthumously into the Michigan State Sports Hall of Fame in 1973 and in 1976 as a charter member of the Wayne State University Athletic Hall of Fame.
He is buried in Section J, Lot 94.