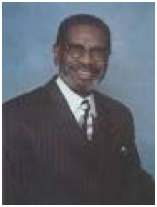 Rev. Herbert B. Robinson, Sr.
(1929 – 2002)
Reverend Herbert B. Robinson, Sr. entered the Christian ministry at the age of 13. He was a graduate of Anchor Theological Seminary receiving a B.B.S. He also attended Wright School of Religion receiving a B. Th., and the Michigan Theological Seminary. Prior to coming to True Love, he held pastorates in Mississippi, Tennessee, Illinois, Missouri, Kansas, and Nebraska, consecutively, from 1953 – 1970. He became pastor of True Love in December, 1970 and led the congregation for 32 years.
Reverend Robinson served as Second Vice President of the Baptist Missionary and Education State Congress of Christian Education, and a teacher for the National Baptist Congress of Christian Education. He was a frequent guest lecturer in Divorce and Remarriage at William Tyndale Bible College. He was also a teacher for the Nurturing Baptist Churches Series, and a moderator for the Prospect District Baptist Association.
He authored four publications in Christian Education, Leadership and Counseling.
Reverend Robinson died on November 23, 2002 and is buried in Gallery D of the Mausoleum, Level C, Crypt 66.