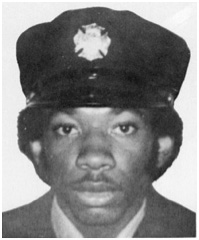 Curtis Randolph
(1955-1977)
Curtis Randolph was the first Detroit African American firefighter to die in action. He was a probationary Fire Fighter of Engine 32 and lost his life in a back draft while fighting a fire in a vacant dwelling.
He is buried in the Firemen's Lot 11/12-1.
The Detroit Fireboat is named for Randolph. The Detroit Fire Department's Curtis Randolph is 74.58' long with a 22.16' wide steel hull. It was built and put in service in 1979. The Curtis Randolph stands ready to address riverfront fires, vessel incidents and take other measures to protect the Port of Detroit. It is capable of towing or pushing vessels, cutting through ice, smothering large fires, and supplying water to firefighters on land when necessary. It has also supported large businesses during crises. For example, following the boiler explosion at the Ford Rouge plant, it provided pumping capacity that kept the plant open for three months following the fire. It also supplied water that kept US Steel operational during the 2003 blackout.
The Curtis Randolph is part of a long legacy of fireboats that have served Detroit since 1883.