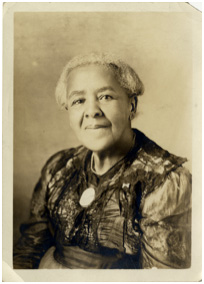 Frances E. L. Preston
1844 - 1929
Frances E. L. Preston was born in Richmond Virginia to John L. Martin, free born, and Louisa Baber, a slave. As children always followed the condition of the mother, Mrs. Preston was therefore born a slave. She came to Detroit with her parents in 1885. She became a teacher and also gave piano and organ lessons. She was the organist for Second Baptist Church of Detroit for a number of years.
Preston was a temperance advocate, organizer and lecturer for National Women's Christian Temperance Union from 1870-1890. She traveled throughout the country as an orator for the organization, making converts for temperance and organizing local branches of the Union. She is credited with receiving more than seven thousand pledges in support of the temperance movement.
Preston served as President of Michigan Federation of Colored Women's Clubs, 1900-1913. She possessed rare talent as a reader and elocutionist and thrilled many audiences with the magic power of her art.
Preston died in 1929 and is buried in Section O, Lot 61.