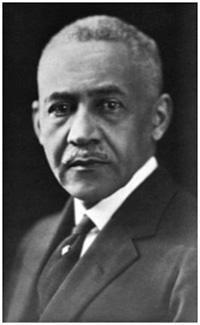 Benjamin Pelham
(1862 – 1948)
Benjamin Pelham was a powerful Detroit politician and journalist. He was proprietor and editor of the first successful African American newspaper in Detroit, The Plaindealer.
Pelham, the youngest of six children born to Robert Pelham, a plasterer and mason, and Frances Butcher, was born in Detroit on February 7, 1862 to free parents from Virginia. Pelham was a messenger with the Detroit Post, Michigan's foremost Republican daily, while in high school. He learned the mechanics of typesetting and this led to his having the position as apprentice typesetter for the renamed Post-Tribune.
He edited a paper titled The Venture for three years while working for the Post. One critic described his articles in the paper as "terse, witty, and well-written," which was partly responsible for The Venture's early success. Pelham and his brother Robert Jr. decided to start Detroit's The Plaindealer, a much larger newspaper that would target the growing African American community of Detroit and southern Michigan. The first issue of the The Plaindealer was printed on May 19, 1883, with Robert as the managing editor. Benjamin Pelham, having business training, managed its sales, while Robert set the type. The first issue was a seven column folio size sheet, with three columns of advertising. A year later, it had grown to twenty pages.
The Plaindealer was a successful, widely read publication that became a leading African American newspaper in the United States. Many of its articles were written by well-known blacks. It supported the concerns of African Americans living in the Midwest. The paper offered a Midwestern, African American view on politics. Successful and influential in local politics, and with a focus on civil rights, The Plaindealer continued in circulation until 1894 when it ceased publication as a result of financial loss.
Pelham began a long career in government after the demise of his paper. He was first appointed to a post in revenue and customs in 1895 because of his work for Republican political campaigns the previous year. In 1900 he worked in the Wayne County Register of Deeds Office until 1906 when he was appointed Wayne County accountant, the highest non-elective office in the county at that time. Later he was elected auditor of Wayne County. Pelham was such a highly influential figure in the county government during this time that he was nicknamed the "Wayne County Czar." As such, Pelham was likely the most powerful black politician in the country during the early 20th century. He retired after forty-seven years of continual public service.
Pelham married Laura Montgomery of Sandwich, Ontario in 1895. The couple had two children, Frances and Alfred.
During his long tenure in government Pelham also became an inventor. In 1905 he created and patented a tabulating devise and in 1913 patented a tallying machine.
Benjamin Pelham was best known however for modernizing Wayne County's finances and using his power in county government to steer debate. Consequently he became an integral part of the government of Detroit and Wayne County. When, in 1934, Democrats campaigned with the slogan "Throw Pelham Out," he survived the assault by being too indispensable to replace. Benjamin Pelham retired from Wayne County government in 1942 and died in Detroit on October 7, 1948.
Benjamin Pelham is buried in Section 10, Lot 84.