102nd U.S. Colored Troops Civil War Lot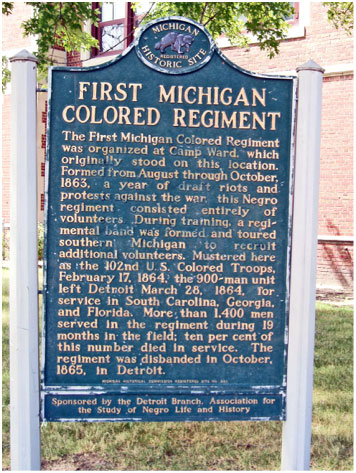 Members of the 102nd U.S. Colored Troops
Civil War Lot, Section S
Formed entirely of volunteers 1863-1865, the First Michigan Colored Regiment was organized at Camp Ward, which once stood on the site of Duffield School, now known as Ralph J. Bunche Elementary and Middle School, three blocks from Elmwood. The Regiment saw service in South Carolina, Georgia, and Florida. More than 1,400 men served in the regiment and ten percent gave their lives in battle. The regiment was disbanded in October 1865. Seventeen members of the 102ndtroop are buried in the Michigan Civil War lot in Section S.
Row 1: Pvt. Augustus Stewart
Row 2: Pvt. George A. Holmes, William Riley, Pvt. Daniel B. Walker, Sgt. Henry Smith, Sgm. William H. Carter, Pvt. Robert K. Russell
Row 3: Musician Frank Robinson, Pvt. Berry Thomas, Pvt. Henry Williams, Pvt. Greenbury Hodge
Row 4: Cpl. Charles Gilbert
Row 5: Pvt. Albert J. Ratliff, Cpl. George H. Griggs, Cpl. William Shorter
Row 7: Cpl. Robert Thomas, Pvt. London Floyd
Since 1984, Elmwood Cemetery has hosted a Veterans Day Commemoration where members of the U.S. Colored Troops, Native American Veterans, and all Veterans are honored. The program involves the members of all branches of the armed forces, JR ROTC programs at Detroit high schools, Martin Luther King Jr. High School Marching Band, re-enactors, political leaders, and the general public.