Tours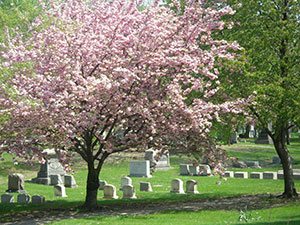 Guided tours are available on a limited basis. You are welcome to take a self-guided tour of the grounds. Materials are available in the office at Elmwood Cemetery and may be downloaded below.
Elmwood Cemetery is steeped in history, art and natural beauty.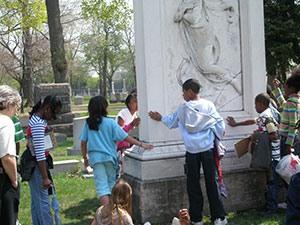 Established in 1846, it is the oldest continuously operating, non-denominational cemetery in Michigan. It contains the graves of many prominent men and women including civil war generals, 7 governors, 11 U.S. senators, 30 Detroit mayors, and countless business and community leaders.
A stone's throw away from the hustle and bustle of downtown Detroit, you will find 86 acres of Detroit's natural topography graceful hills and a valley surrounding a calmly flowing stream, complete with large stands of trees and roads that follow the natural slope of the land, blending with the surrounding environment and architecture, creating a haven of peace for the living to enjoy.
Please join the hundreds of people each year who tour Elmwood's grounds. Recent participants include seniors, school and community groups, garden clubs, history buffs, religious organizations, photographers, birders, and special interest groups.
Tombstone Tales Guided Walking Tour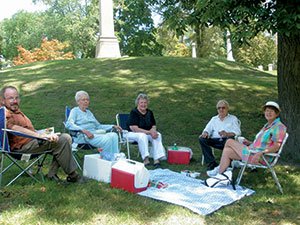 June 26th 9 a.m., July 18th 9 a.m., August 7 9 a.m.., September 25th 9 a.m., October 9th 9 a.m.
Elmwood has "Tombstone Tales" tours that we offer to the public FREE of charge. We share the many stories of those laid to rest at Elmwood, including Michigan governors and senators, Detroit mayors, Civil War generals, African American Heritage Leaders, and Detroit's Who's Who. We also highlight memorial art and symbolism, architecture, and our unique grounds. Our tours are held in all weather and are walking tours lasting approximately 2 hours.
Tree Tour
October 24th 9 a.m.
Elmwood is delighted to be Detroit's first certified arboretum. This special tour couples our history tour with information about the majestic trees on the property.
Advance reservations are recommended by emailing This email address is being protected from spambots. You need JavaScript enabled to view it.. When you make your email reservation, please provide your name, the date you wish to tour, and the number of participants.
Self-Guided Tours
The Historic Elmwood Foundation has developed self-guided tour maps highlighting key figures who are buried at Elmwood:
African American Heritage – Elmwood Cemetery, incorporated in 1846, was integrated from its beginning. It became a popular burial ground for African Americans. Historian Dr. Norman McRae said, "When you consider that in 1910 Detroit had a population of 300,000 people but only 5000 were black. There weren't many of us here. Those who were, were buried in Elmwood." Elmwood is proud to recognize the significant achievements of abolitionists, businessmen, political and community leaders, musicians, spiritual leaders, attorneys and many others. Download the African American self-guided tour map here. Click here for the African-American Heritage Audio Tour.
Leadership Legacies – In 1776 our democracy was founded and its principles were set out clearly. It was established and shaped by the courageous and thoughtful actions of those who have come before us. Elmwood is the final resting place of 7 governors, 11 U.S. senators, and 30 mayors of Detroit. They, along with many others, took advantage of the ability to establish and grow businesses here. They also recognized and met the real need for civic responsibility at times when the city and country were undergoing dramatic change. Download the Leadership Legacies self-guided tour map here. Click here for the Leadership Legacies Audio Tour.
Business Visionaries – Leaders who spearheaded great businesses. They were owners, presidents, investors, and directors. They were visionary, smart, persistent, influential and passionate. The individuals highlighted are some of Elmwood's business people who had a significant impact on growing Detroit into a dynamic city. Download the Business Visionaries self-guided tour map here. Click here for the Business Visionaries Audio Tour.


Underground Railroad Network to Freedom Tour – This tour highlights forty-one individuals who were freedom seekers, abolitionists, UGRR operatives, and significant supporters. This follows the 2016 United States Department of the Interior's National Park Service ("NPS") recognition of Elmwood Cemetery as a Significant Site for the Underground Railroad Network to Freedom because of those who participated in or supported Detroit's network and are buried here at Elmwood. We have just completed our production of the map that was made possible through a grant from the Association of the Study of African American Life and History, funded by the National Park Service Department of the Interior, and is based upon research completed by Carol Mull, Gabrielle Lucci and Joan Capuano. NPS indicated our "project to be very exciting and feel that it will advance the goals of preserving the history of the Underground Railroad and informing the public. We commend your creativity in developing the proposal and your dedication to this important part of our heritage." Download the Underground Railroad Network to Freedom self-guided tour map here.


Tree Tours – In the 1890s, the cemetery Trustees hired prominent landscape architect Frederick Law Olmsted to provide guidance on how best to re-design the cemetery grounds. His advice included using Michigan native plants and trees that would thrive in our environment, large stands of trees to provide shade for visitors and roadways designed to follow the natural slope of the land. In 2015 Morton Arboretum and the ArbNet Arboretum Accreditation Program certified Elmwood Cemetery as a Level 1 Arboretum, making Elmwood Detroit's first certified arboretum. Visitors enjoy Elmwood's park-like setting every day of the year, using the grounds to walk, ride bikes, bird watch, picnic and of course contemplate the serenity of the area while visiting family. While visiting the grounds, we invite you to use our newly developed self-guided tree tour maps. The tours are separated into three geographic areas and identify different species of flowering, deciduous and evergreen trees. They are intended to permit visitors to walk different areas of the cemetery and learn about a variety of species while enjoying Elmwood's environment. On each of the featured trees we have placed a tree identification plaque that contains the botanical name, common English name, and a QR code to be used with smart electronic devices. The QR code will link you to additional information about the species.
Here are links to Elmwood's self-guided tree tour maps.
Elmwood Tree Tour Southern Sections
Elmwood Tree Tour Center Sections
Elmwood Tree Tour Northern Sections
The self-guided maps are available, free of charge, in the cemetery gatehouse during office hours.
Special Interest Tours
Special Interest Tours are available for groups and are scheduled throughout the year via our partners and through special interest groups. For more information, please email This email address is being protected from spambots. You need JavaScript enabled to view it. or call Foundation Executive Director, Joan Capuano, on 313/801-1971.
Tour Referrals
Many tour organizations bring their groups through Elmwood. Listed below are some unique touring opportunities:
www.showmedetroittours.com
www.preservationDetroit.org
www.feetonthestreettours.com
www.wheelhousedetroit.com
History Partnerships
Elmwood is also proud to partner with the Detroit Historical Society, the Charles Wright Museum of African American Heritage, and Preservation Detroit to help preserve and promote Detroit's great history. Unique tour opportunities are available through these organizations for individuals and groups. Museum entrance and tour pricing can be found through their website links.
http://www.detroithistorical.org
http://preservationdetroit.org